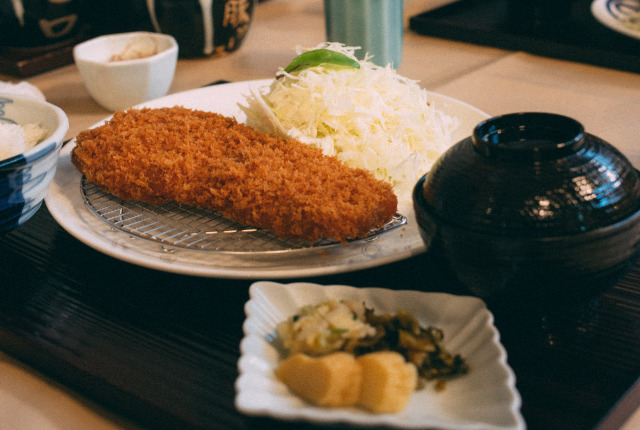 As the newest venture of the San Telmo Group, who already operate Pastuso, Asado, Palermo and of course San Telmo, the Robata Japanese Grill has already created quite a buzz as the newest hot restaurant in Melbourne. Located in the Herald Sun building, which proudly stands on the corner of Exhibition and Flinders street, Robata (meaning "fireside") specialises in their own unique interpretation of the traditional Japanese grilling method called "Robatayaki" (meaning "fireside cooking").
Exploring Robata's menu takes you on a culinary adventure through ancient Japan, featuring standout dishes such as tonkatsu with cabbage and fried pork cutlet, beautifully seared salmon with a side of Japanese mustard miso, and chirashi handrolls filled with caviar, salmon, tamari soy sauce and avocado. You also can't visit without trying their yakitori (grilled chicken), with your choice of chicken breast, wing, thigh or heart flame-grilled with spring onion, cured yolk, shio koji, yuzu salt and more!
Robata also offers an extensive drink menu, including sweet potato amber ale, sparkling sake, cider, a large selection of Japanese whiskey, beer, wine and some very creative cocktails. For the perfect ending to your meal, don't forget to try their mouthwatering sparkling sake and sakura sorbet.
Website: https://robata.com.au/
Address: 2 Exhibition St, Melbourne VIC 3000
Unlike other types of cuisine that can leave you feeling bloated from heavy, carb-filled dishes, Japanese is the perfect choice when you want indulgence – without overindulgence. Now that you know where the best Japanese restaurants in Melbourne are, book yourself a table and enjoy a traditional Japanese lunch or dinner that you won't have to travel all the way to Tokyo to experience!