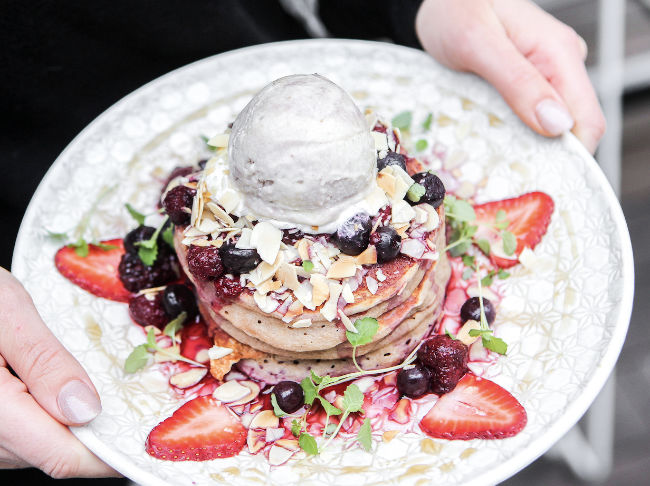 Serotonin Eatery
The Serotonin Eatery in Burnley has a holistic approach to the importance of nourishing and healthy food for living a happier lifestyle. It even offers monthly education dinners and free exercise classes as well.
For a boost of serotonin, you can choose from a scrumptious selection of dishes such as their vegan pancakes, interestingly named 'positive pancakes'. They are made with gluten-free banana flour, hung yogurt and topped with berries. They also offer raw zucchini linguine, 'nutrition bomb' salad bowls and arguably the best turmeric and matcha lattes you will ever taste.
Save yourself time searching on Google for the best vegan pancakes in Melbourne because we've done the hard work for you.
Sister of Soul
If you enjoy meeting up with friends for breakfast, then you have to book a table at Sister of Soul at either their St Kilda or Richmond restaurant. Their menu offers a tasty selection of breakfast and brunch dishes such as their vegan pancakes, also known as okonomiyaki, made from pumpkin and cabbage.
If you want something more filling, then their vegan big brekkie features potato and sweet potato rosti, tomato kasundi, wilted spinach, roasted mushrooms, scrambled tofu, avocado and toasted sourdough bread.
Lentil as Anything
With locations in St Kilda, Abbotsford and Thornbury, Lentil as Anything is another great spot for delicious vegan pancakes. They offer an incredibly tasty vegan okonomiyaki made with cabbage, carrots and beansprouts, or if you're there for lunch, try the mouth-watering green lentil burger with sweet chilli sauce and vegan aioli.
Lentil as Anything also features a very unique payment system. When the time comes to pay the bill, customers are encouraged to pay for what they think their meal is worth, whether it's a couple of dollars or a larger amount for a job well done.
If the customer doesn't have any money to spare or feels like giving something back, they can volunteer their services and help out the back for a couple of hours to work off their meal.